Where to elope in Oklahoma 
I round up some of the BEST spots in Oklahoma for your elopement or intimate, outdoor wedding.
Why might you want to have your elopement in Oklahoma?
If you're looking to ditch the traditional big day in favor of a meaningful, intimate elopement in Oklahoma — You're in the right place! Oklahoma might not be able to boast the scenic mountain backdrop of Colorado or the intense desert landscape of Joshua Tree, but we have BEAUTIFUL and scenic spots that are within a few hours of the metro, are budget-friendly, and that would be perfect places for your Oklahoma elopement. Oklahoma's got game — maybe you just haven't seen it yet.
I think if you have read my blog or my website, you'll know that I strongly encourage couples to plan their wedding day totally their way, with intention, and thought about what they really love doing together. I've talked a bit about eloping and about smaller intimate weddings and why you should consider them. I also want everyone to know that even if you don't plan to take off to a bucket-list destination for your elopement or intimate wedding, eloping in Oklahoma offers beautiful, affordable options for your perfect wedding day.
So without any further ado, I'll list a few of my favorites on where to elope in Oklahoma below. Enjoy!
---
Broken Bow, Oklahoma
Not only is the southeast corner of our state lush and gorgeous, but it also has the advantage of many lodging options in the area. If you've always imagined an intimate, outdoor wedding with room for all of your family and friends to stay with you — you should definitely begin your search in this part of the state.
Lago Vista Cabin
If your "where to elope in Oklahoma" search takes you to Broken Bow — One excellent place to check out for your Broken Bow wedding is the Lago Vista Cabin, which boasts scenic views, 8 bedrooms with their own en-suite, and a dining area that can seat up to 26!
Imagine being able to hang out around the pool with friends and family, stay a few nights, say your vows on a private, gorgeous deck overlooking the lake, and sit down to a sunset meal together!
There are so many cabins for rent in Broken Bow, and they're all close to, or even inside of, beautiful Beaver's Bend State Park. Some of the lodges boast amazing lake views and plenty of room for your family or guests to stay. Beaver's Bend State Park is another great place for your wedding, and definitely one of my favorite state parks in Oklahoma! There are lots of BnBs and cabin lodging in the area, and an intimate weekend wedding getaway in the woods sounds pretty awesome if you're asking me. S'mores? Ohhh yes, I'm there! If you're looking for a lot of room, be sure to check out Beavers Bend Lake Lodge for suite lodging for up to 40.
For a truly off-the-grid experience, check out the Cliffhouse Cabin. A quiet place to get away from it all, with stunning views overlooking Broken Bow Lake. 
---
Quartz Mountain Nature Park
Not exactly a state park, but a great outdoor area of our state, nonetheless. Nestled in the southwest part of the state, a short drive from Hobart,
Quartz Mountain Nature Park
offers a rocky wedding backdrop compared to the lush hills of the southeastern part of the state.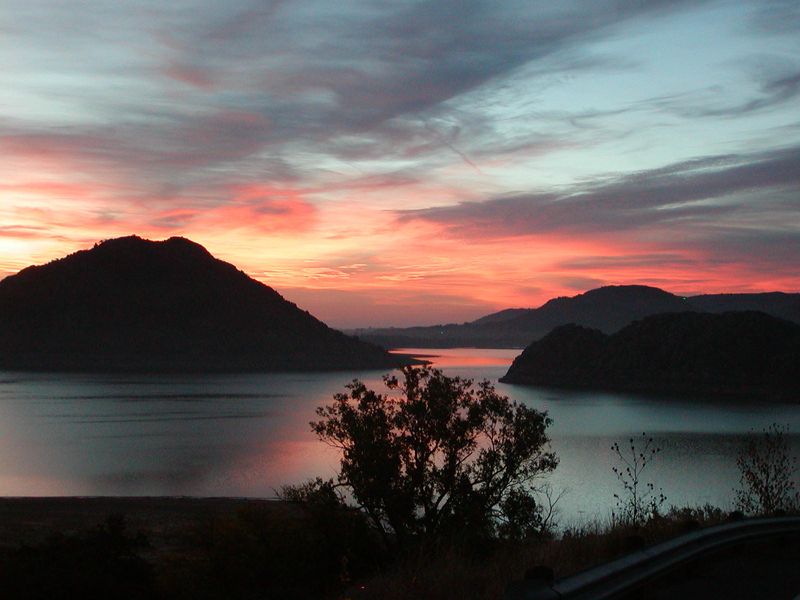 You can set your sights on Baldy Point, which is located on the western end of the Wichita Mountain range and rises 300 feet above the prairie. Trek along the New Horizon trail to say your vows and elope at the point overlooking lake Altus-Lugert. Less adventurous hikers can still enjoy the less strenuous trails throughout the park, and the trail that climbs the face of Quartz Mountain still offers hikers the ultimate reward: incredible views. 
If you'd like to bring your friends and family along, not only does Quartz Mountain have a resort with room for you and your guests to stay, but any of the large decks, patios, or even the natural stone could be amazing backdrops for your Quartz Mountain wedding ceremony with family in attendance.
Check out the Quartz Mountain Resort website to view the available amenities, bookable spaces, and rooms and accommodations. The resort even has wedding packages available, should you want their assistance in planning and providing extra services for your day.
---
Osage Hills State Park
Just west of Bartlesville in northeast Oklahoma, Osage State Park is like having the best of both worlds: Lush, rolling landscape with rocky bluffs and rivers that run through them.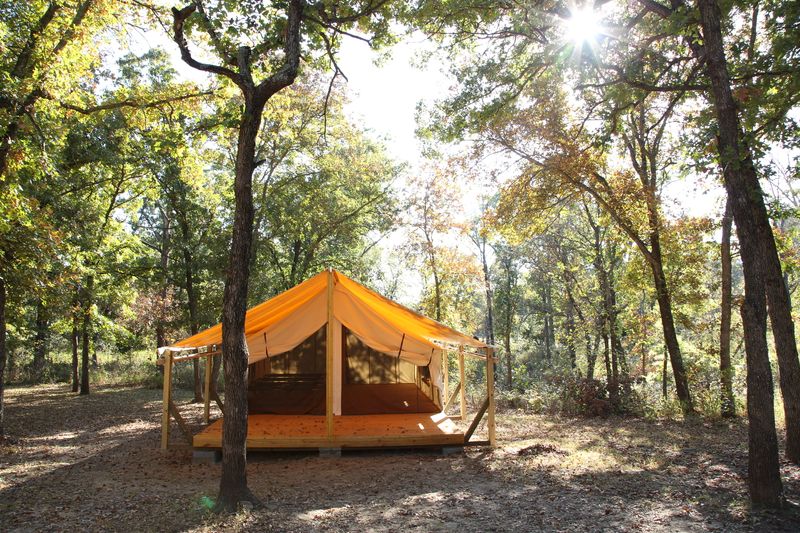 With cabins nestled into the hilly terrain and new glamping options available for rent, couples who prefer "roughing it" for their wedding experience over some creature comforts might be more interested in what this park has to offer.
Glamp out in one of the Osage Hills canvas wall tents! These would be the perfect spot for relaxing and getting ready for the day together before trekking through the scenic hills and bluffs.
You can reserve camping spots and one of the few stone cabins by visiting the online reservation page, here.
---
Robbers Cave State Park
Nestled in the San Bois Mountain range in southwest Oklahoma, I'd say Robbers Cave State park rivals my love for Beaver's Bend. And for good reason, I love beautiful, lush, hilly hiking, and I also love how close these two are to towns, so that lodging, food, etc are all easily accessible when you're thinking of eloping or having an intimate wedding there.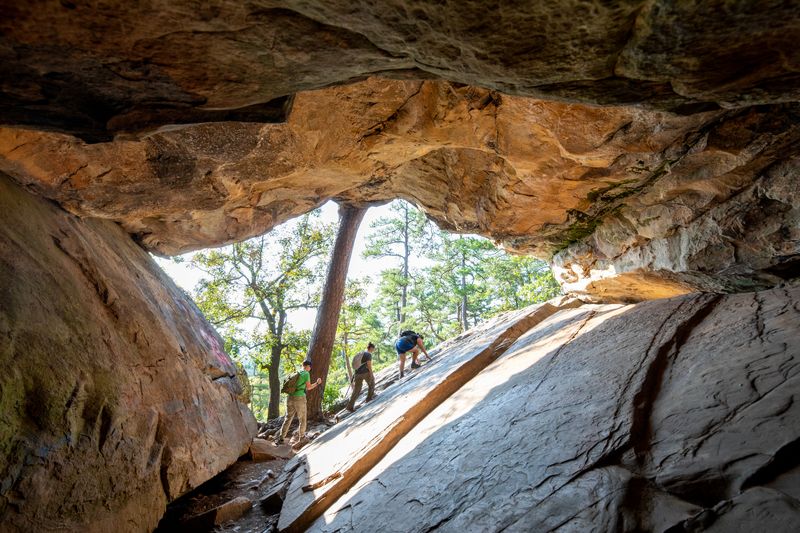 Accommodations at Robbers Cave State Park include a lodge, cabins, a lake hut, yurts (YURTS!! You'll have to book by contacting the main office), and two group camp facilities if you feel like group camping.
Honestly, this sounds super fun and I would LOVE to photograph your wedding if you're going camping! In addition to cabins and the campground in the park, There are 20 rooms available at the Belle Starr View Lodge, which boasts an impressive view of Coon Creek Lake and the green valley below it, if you're looking for more accommodations in the area. Lots of great reasons to have your wedding at Robbers Cave.
Visit TravelOK's page on Robbers Cave State Park to view amenities and to book lodging.
---
Near the Oklahoma/Arkansas border in the scenic Ozark Highlands region of northeast Oklahoma lies Natural Falls State Park. An incredibly beautiful and lush park featuring a 77-foot scenic waterfall. Hike through the stunning rock formations and rivers to find the perfect elopement spot among the rugged rock and serene atmosphere. 
A bonus to Natural Falls State Park is the yurts! Imagine hanging out and getting ready for the day in a rustic yurt, which can be reserved online. Each yurt sleeps between four and six people and comes with a microwave, dorm fridge, ac/heat, ceiling fan, light, electrical outlets, dining table and four chairs, and coffee maker.
Check out details on the park or go about reserving your yurt here!
Don't forget about vacation rentals!
BnBs are great options to consider for lots of space and the guarantee of your most basic amenities. Not to mention that the price tag for an entire weekend is already significantly less than what you would spend on a typical wedding venue for one day.
Check out this list of the most unique AirBnB's in each state, and let your imagination for your day run wild!
Keep in mind that most bigger BnBs and rentals are typically outside of Oklahoma City.
---
How can we forget about the heart of the city? If you've dreamed of eloping, but the great outdoors doesn't mesh with your vision–not to worry! OKC has SO many possibilities for your day and so many possibilities for amazing urban portraits on your day. Say "I do" inside of your favorite bar or one of our beautiful local parks.
With the added bonus of having so many unique venues and locations to get ready for your day, t
he sky's the limit here. You can bar hop in your wedding gear, take in the skyline views of downtown together, explore the city, have a picnic … You name it.  If you're looking for an urban landscape and city vibes for your wedding day, look no further!
If you're looking for some incredible venue options in Oklahoma City, don't miss my post here where I round up the best small venues in the city.
Did you know you can get married inside of a wine bar? Or share in post-ceremony french fries at Bar Arbolada? I love elopements in Oklahoma City because they can be so fun and so unique. There are so many options here to do your day differently!

---
A few other tips
If your plans include a wedding or elopement in an Oklahoma state park, always be sure to visit the park's website for travel information, permit information, and reservation information on campsites, cabins, and even outdoor spaces. If your Oklahoma elopement or wedding will take place outdoors, always follow leave no trace guidelines–leave no trash, stay on designated trails, and respect the space. After all, we want to have weddings there because the space is so beautiful — make sure you help keep it that way!
If your marriage will be in a different county than where you live, always make sure to visit that county's website or call their office to make sure you get your marriage license with no issues! If you obtain your license from Oklahoma County, it's good for up to 10 days from the date issued. Always chat with your county clerk if you have any questions on paperwork, or check out my super in-depth post here about eloping in Oklahoma!
Even if you've always wanted to elope, or are just figuring it out, there's so many ways to celebrate your day in the best way for you. If you're still searching for the perfect elopement location in Oklahoma to say. "I do", need some help, have some questions, or just have NO idea where to start… shoot me an email! I love helping my couples come up with unique ways to celebrate and plan their dream day, their way.